We Are Now A Gates Distributor!
Contact our salesteam for pricing and availability.
Gates hydraulic hoses and fittings 
Shop Products
Product availability and pricing is subject to change.
Atlanta Rubber and Hydraulics is distributor and supplier of many rubber, hydraulic, and industrial hose, fittings and many other accessories. We have locations in Marietta, GA – Stallings, NC – and Gainesville, GA. Many of our most popular products and assemblies are in our online catalog, we also offer customizations to your needs and products from our premier partners and brands.
Industrial Hose
Assemblies, Bulk & Custom
Specialty Hoses
Material Handling & Specialty Purposes
Hose Fittings
Adapters, Camlock & Others
Industrial Accessories
Clamps, Strainers & More
Hydraulic Hose
Assemblies, Bulk & Custom
Hydraulic Fittings
Adapters, Couplings & Fittings
Hydraulic Accessories
Crimping Machines, Protectors & More
Rubber Products
Rubber Rolls, Skirtboards and more
Marietta, GA
1000 Marble Mill Circle
Marietta, GA 30060
770.955.5225
Gainesville, GA
1004 Chestnut St
Gainesville, GA 30501
770.534.8008
Stallings, NC
608 Union West Blvd
Stallings, NC 28104
704.882.2820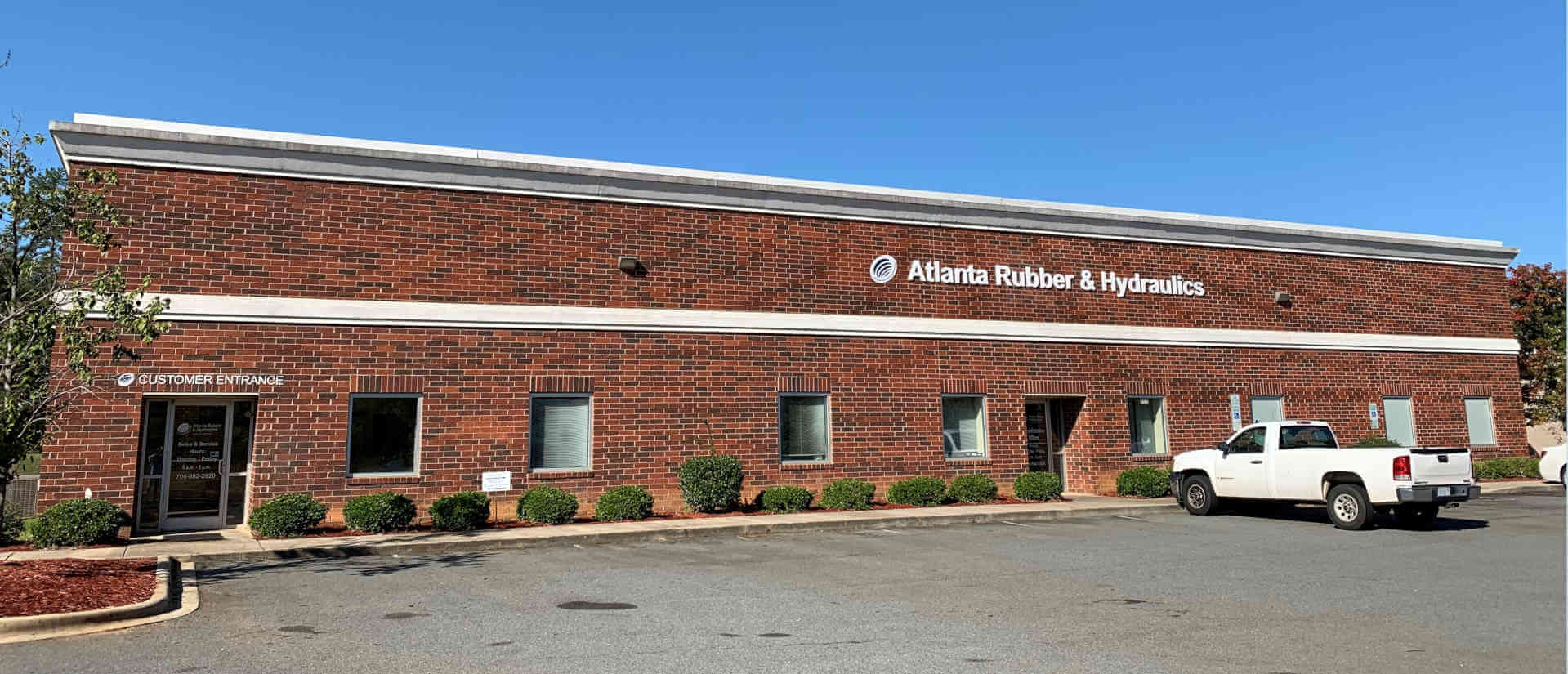 A Few Of Our Most Popular Products
Blue Layflat Discharge Hose
1.25″ to 12″ Hose ID
Light Construction, Rental, Agriculture, General Industrial Usage
About Atlanta Rubber & Hydraulics
Atlanta Rubber and Hydraulics aims high to support your hydraulic, rubber, and industrial needs.
Working together, all of our team members work hard everyday from warehouse employees to upper management to provide you with the right services and products to support your business.
Some of our services include custom assembly and fabrication, kitting, and VMI programs for many industrial and hydraulic companies throughout the United States.
Atlanta Rubber & Hydraulics offers quality products from recognizeable brands and manufacturers to our customers because you deserve more.
Adapt-All
Air-Way Manufacturing
American Seal
Anchor Flange
Apache Mat
Bailey-Parks Urethane
Band-It
Bandlock
Bee Valves
Campbell Fittings
Chandler Equipment
Diamond Rubber
Dixon Valve & Fitting
Flexaust
Flexfab
Gates Rubber
Hannay Reels
Hudson Extrusions
Hydraulics, Inc.
Kanaflex
Kuriyama
Kurt Manufacturing
Midland Metals
Mulhern Belting
Newage Industries
Pacific Echo
Parker Hannafin
Perfect Coupling
Piranha Hose
Ply-Flow
Pressure Components
PT Coupling
Rubberlite
Superior Fire Hose
Superklean Washdown Products
Super-Swivels
Synaflex
Teleflex
Tompkins
Wil-Loc
ZSI
Contact Atlanta Rubber & Hydraulics
Drop Us A Line
Reach out to us if you have any questions or would like to request a quote.
Newsletter Signup
We won't sell or loan your information to outside parties. We just want to send information like promotions to keep you in the loop.
Headquarters
1000 Marble Mill Circle
Marietta, GA 30060
Office: 770.955.5225
Nationwide: 1.800.282.6272
Fax: 770.955.2377
Georgia
1004 Chestnut St SE
Gainesville, GA 30501
Office: 770.534.8088
Nationwide: 1.800.282.6272
Fax: 770.534.1521
Carolinas
608 Union W Blvd
Stallings, NC 28104
Office: 704.882.2820
Nationwide: 1.877.404.1999
Fax: 704.882.2354